Take the leap. Join our Team…
We are looking for at least one new team member for the shop floor in Norwich. Take the leap and come and join the leading local, independent and multi-big-brand store and enjoy giving your career a big leap forwards!
Being independent, local and passionate about all types of cycling is really important to our customers and really important to us. If you share this and have the relevant experience then read on…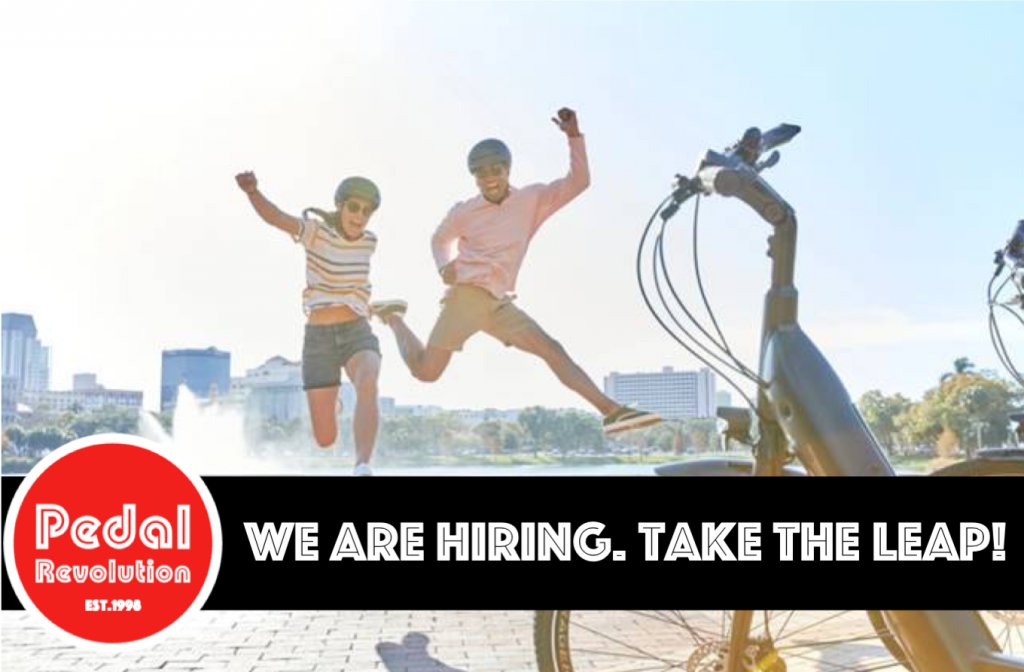 Customer Service & Sales Team Member, Pedal Revolution Norwich
We are looking to recruit an experienced Customer Sales and Service team member at our long established Norwich store. As a small independent business there is no place to hide and every team member gets to see and feel the difference they make to our customer outcomes and to the success of our business every week. If you like to get stuck in and make a difference you are our sort of person.
You will be part of a small team that shares our customer's passion for cycling and we expect you to demonstrate our brand values of being local, independent and focussed on brilliant customer service with every contact with our customers.
You MUST have:
Customer Service/Sales qualification and/or experience in the cycle trade;
A track record of being a strong team player;
A personal attitude that insists on the best for our customers;
Commercial awareness;
Have fantastic organisational skills, with the ability to prioritise.
What you can expect:
Contracted full-time hours with a long-established business committed to Norwich;
20 days holiday;
Never work a bank holiday;
Standard weekly routine so you can plan your life;
Flexibility around your cycling ambitions whenever we can!
Pension scheme;
Weekly team bonus scheme;
Training, development and brilliant staff discount scheme;
Feel part of a team that wants to go the extra mile for customers.
Job Description
Our Customer Sales and Service Process defines our commitment and quality standards for delivering brilliant customer service and we expect all of our team to demonstrate this and use it to highlight their areas of supported personal development.
Accountabilities
Ensuring our customers have a positive first impression of our store and team;
Connecting to customers, taking an interest in them and understanding their needs;
Helping customers form a shortlist when choosing a new product;
Contributing to the weekly team sales and service targets;
Promoting Pedal Revolution events, Precision Bike Fit services and workshop services;
Support the workshop team;
Ensure the store is well stocked and all stock is labelled and priced;
Follow-up customer leads and routine follow-ups;
---
About Pedal Revolution:
We have served customers across Norfolk for 23 years. We have thrived and grown to become an established part of Norfolk's cycling community. We recognise that our customers have a passion for cycling and we wholeheartedly share their passion. Whether their motivation for cycling is commuting, recreational or competition we are able to offer brilliant personal customer service and a choice of brands and services that only an independent local business can. We love to support the local cycling scene by sponsoring local clubs and groups, delivering award winning community projects and challenging our customers to get the most from their cycling by inspiring them to join our programme of events.
Our Norwich store offers a full range of top branded bikes for all ages, abilities and genres of cycling. We specialise in major upgrades, Precision Bike Fit in a dedicated studio and a thriving workshop with 5 technicians. We are proudly one of only a handful of UK retailers selling all three of the top bike brands and we are the UK's leading independent titanium bike store.
---
To Apply please send your CV and cover letter to neil.turner@pedalrevolution.co.uk