The UK Government have exempted bike shops from their lockdown as they appreciate, for the time being at least, we all need to keep active and use alternatives to public and mass transport.
As a privately owned independent local business we want to stay open to support the local community as we share this philosophy of staying active. We passionately believe in Stay Healthy, Keep Pedalling! However, we need to put the safety of our customers and team first. The virus will survive on a hard surface for up to three days. As most of your bikes are ridden with verve and passion this inevitably leaves debris on your bikes that is naked to the eye – you know what we are trying to say! As high street stores we do not have the facilities to sanitise bikes before they enter the shops safely and as such our workshops will have to remain closed for repairs and servicing until further notice to eliminate contamination risks. Our bike sales process involves close contact and is therefore totally outside the Governments rules for Social Distancing. If you are thinking of a new bike please phone us and let's help you choose the right model and size for your needs. Our knowledgable and helpful help are working safely from home and will be pleased to help.
Here is what we can offer local cyclists at the moment so we can all Stay Healthy and Keep Pedalling during this National Emergency:
Online sales will be fulfilled Monday to Friday as usual and DHL are delivering within the UK as usual;
The Gorleston store will be closed, except for exceptional circumstances where appointments can be made via email or telephone;
The Norwich store will be manned Monday to Friday 10-4 but please ring or email and make an appointment to collect emergency parts/spares or click and collect orders but only after emailing or phoning for an appointment.
For safety, PLEASE DO NOT JUST TURN UP AT THE STORE without contacting us first and making an appointment.
Our website is open for now, in line with the Government's instructions and exceptions for Bike Shops. We have slashed the prices of new bikes and e-bikes so yo can get on a new bike to commute, exercise for physical and mental well-being and make necessary journeys by the healthiest way possible – by bike in the open air (or at home on the turbo!). We also have upto 36 months interest free credit. And if that is not enough, new bikes and e-bikes come with up to two years free servicing!
It has been a devastating 18 months for retail businesses. This added challenge will no doubt be the final straw for many, but it has made us even more determined to find a way of safeguarding the future of our local business and the livelihoods of our fabulous and loyal team in both Norwich and Gorleston. Your continued, and much valued, support will be much appreciated when the World returns to normal – whatever that may look like!
While our big mass participation events are a no-go for now and our weekly ParkPedal and Cafe rides have to be suspended we are working hard in the background dreaming up some new ways to inspire us all to STAY HEALTHY & KEEP PEDALLING! in a safe and responsible way. Read about our events programme and please take two minutes of your day to help shape some new and innovative events that comply with the Governments instructions.
Please look after yourselves, enjoy time on your bike if you possibly can and please observe the Governments instructions on being outside for everyone's sake.
We look forward to welcoming you back as soon as we can…..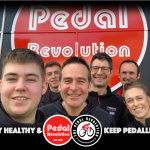 The Pedal Revolution team.
27th March 2020