Everyone wants to ride a bike like the pros, but the budget tends to get in the way. However we have some of the best road/gravel bikes for under £2,500 that are still seriously good.
We've selected the best endurance machines, sportive bikes, and racers for you to look through based on press reviews, our customer reviews, staff favourites, and the bikes we ride.
Selecting what is right for you
There are loads of bikes that fall into the under £2500 range and choosing what is right for you can be very difficult. Bikes at this price work well across multiple disciplines however, they are typically designed with a field in mind, meaning they perform better in their intended field. So you will want to consider what you are looking to use the bike for.
You are probably thinking that with your £2.5K budget that carbon is what you want but we would advise you not to overlook aluminium as the best aluminium frames can perform considerably better than some of the entry-level carbon options, with that said we only stock quality carbon models and do not deal with poorer quality manufacturers.
Great advice when buying at this price is to concentrate on the frame rather than the parts, a quality frame will set you up and help you to get the best ride experience ensuring you have a quality starting point to build upon. Parts are easily upgraded when you are ready for a change or they wear out.
Typically wheels supplied on these bikes are entry-level but again if you focus on getting a really quality frame, having an entry wheelset is actually a good thing! These are the wheels you will use most of the time. When you buy a nicer pair they only really come out on nice days or race days, the rest of the time your "winter training wheels" tend to stay on the bike or in the turbo to protect your more expensive wheel investment.
The Best Road/Gravel Bikes For Under £2500
Trek Domane AL4 Disc - £1625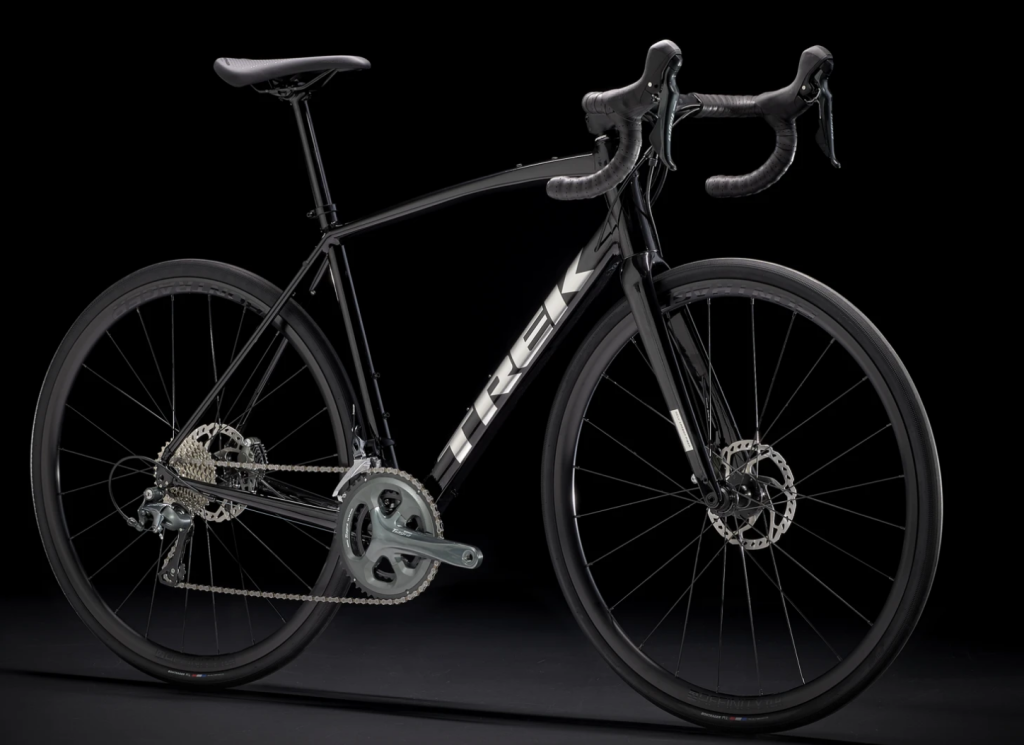 The Trek Domane ALR 4 is one of the best bikes around. You do not need to look much further for a better bike for the money. This bike is perfect for new riders but also experienced cyclists who are looking for a trusty winter steed.  
The Domane AL4 comes with a 100 series Alpha aluminium frame to provide a strong yet lightweight frame paired with a Trek Alpha Carbon fork to give you a responsive front end. 
Best Features
A light, comfortable frame and quality parts make it an amazing platform for long, fast group rides
The unique IsoSpeed Carbon fork, which swoops forward toward the dropouts, absorbs vibrations from the road so your arms won't fatigue as quickly
Hydraulic disc brakes give you more precise and consistent stopping power in any conditions
Bigger tyre clearance lets you run wider tyres for more traction and stability on rail trails and other light gravel roads
DuoTrap S compatibility makes it easy to wirelessly track your rides, so you can set goals and watch yourself reach them
Orro Gold Evo 105 - £2199
The Orro Gold has been the go to bike if you are looking for high grade carbon fibre frame matched with the super reliable shimano 105 groupset. The Gold Evo 105 has been designed as a comfortable long distance endurance bike capable of punchy hill climbing when the need arises. This specification is ideal for the sportive rider looking for the last word in efficiency at a competitive price.
With multiple awards under its belt including road.cc Sportive and Endurance Bike of the Year 2019/20 and rated 4/5 from Cycling Plus. If you want that perfect do it all bike with great spec as listed below then look no further than the Orro Gold. 
Trek Emonda ALR 5 - £2199
If you want a lightweight bike without the crazy price tag then the Trek Emonda ALR 5 is the bike for you. With its super lightweight 300 Series Alpha Aluminium frame matched up with a ever reliable 105 mechanical groupset. This bike is a true to its nature of being an excellent all round lightweight bike with the carbon fork up front to add that fast light feel. 
The all-new frame is lighter and sleeker than previous ALR models and features aerodynamic Kammtail tubes with even cleaner cable routing
It climbs fast, corners on rails, and descends with confidence
Disc brakes offer better braking performance and extra clearance for wider, more comfortable tyres
It shares the race geometry of our highest-end carbon Émonda race bikes, and it gives you a ride quality that stands up in every way to far more expensive carbon bikes
Internal cable routing extends the life of your cables and adds to the bike's sleek look
ORRO Terra X GRX400 - £1699.99
The Orro Terra X is based off the ever popular Terra C. With its lightweight and responsive ride qualities as well as specifications to take you over any terrain. The Carbon fork up front will give you that speedy handling along with some compliance that Carbon fibre brings. 
The Orro Terra X's frame is made out of lightweight yet durable Aluminium which means you can carry more weight through the various different mounting points.  
Aluminium Frame & Full Carbon Fork
Shimano GRX 4002×10 Groupset
Fulcrum Rapid Red 900 Wheels
Continental Terra Trail 40c Tyres
Trek Checkpoint ALR 5 - £2500
The Trek Checkpoint ALR 5 is that perfect do it all bike. With progressive geometry which gives you that stable feel no matter the speed you are going. One huge benefit to the Trek Checkpoint ALR 5 is that with its hidden cable routing it wont interfere with any bags or accessories you would like to mount on your bike for any bike packing trips or long days in the saddle. 
With the huge capabilities of the Trek Checkpoint ALR 5 you need the tyre clearance to match so you can now fit up to 45c tyres for extra traction and added stability on any terrain. 
All-new progressive geometry is quick and nimble yet keeps you stable and in control on fast, choppy descents
This bike is exceedingly versatile and suited to a wide variety of riding styles, including gravel rides, bike-packing and daily commutes
Massive tyre clearance means you can use tyres up to 45 c for extra traction and stability in any conditions
Integrated frame bag mounts and rack and mudguard mounts make it easy to carry gear and water
The Orro Terra Steel is both at home on the Sunday afternoon ride as it is carrying all your luggage as far as your legs will take you. The Terra Steel is made from Orro's own specification of steel the 4130 chromoly steel. The frame as custom drawn and triple butted this makes this bike a light as well as strong. Mounts mounts mounts, there are more mounts than you could ever want so carrying your equipment is done with ease.
This bike comes with a Shimano GRX 1x groupset giving you a wide ratio cassette for those mountain passes but also that fast gearing for those road rides.
Custom 4130 chromoly steel construction.
More mounting points that you could ever need
Super slick and easy 1x Shimano groupset
Carbon Fork up front to give you a modern feeling front end. 
ORRO Venturi Evo 105 - £2499
The Orro Venturi Evo 105 is an aero bike for under £2500! The frame is made up from 3 different unidirectional carbon material providing a great platform for comfort and speed. Also included on this amazing bike is the semi-integrated cables giving you the freedom and ease to swap out to any bar and stem combo you desire.
The finishing kit on this bike hasn't been overlooked either with a full Shimano 105 groupset matched up with Fulcrum R800 wheels, you wont be disappointed with the ride feel of this bike. As standard this bike comes with some continental 28c tyres giving you that chance to run lower pressures to improve ride feel and control. 
Full Shimano 105 Groupset
Semi-integrated cables
Fulcrum R800 wheelset
Progressive and aero geometry to help you feel comfortable and fast.