This blog is written by Matt Watts (store manager at Pedal Revolution Norwich). 
Normally in March or April time I head to Mallorca for smooth roads, sun and climbs to put a training block in prior to my cycling season kicking off in earnest. However, this year that was not possible so I planned a few days cycling around my home roads. I then purchased a Gravel/Cross bike at the beginning of the year and that got my brain working on what rides I could do with that. A customer from our shop mentioned the Rebellion Way and that looked like an interesting challenge! 
The Route 
The Rebellion Way is a 232-mile/373km cycling adventure around Norfolk. Meandering along a mix of quiet, mostly flat back roads (still 2600+m of elevation), byways, cycle paths and bridleways under huge panoramic skies, it's a fantastic introduction to multi-day, on- and off-road adventuring for anyone.
The name comes from the fact that, while this ancient county is now characterised by a relaxed, timeless, pastoral charm, it has a fascinatingly turbulent history from the Iron Age onwards. Exploring the stories, ancient sites, stunning vistas and thriving wildlife of this unique area enriches every mile of this leisurely but rewarding loop.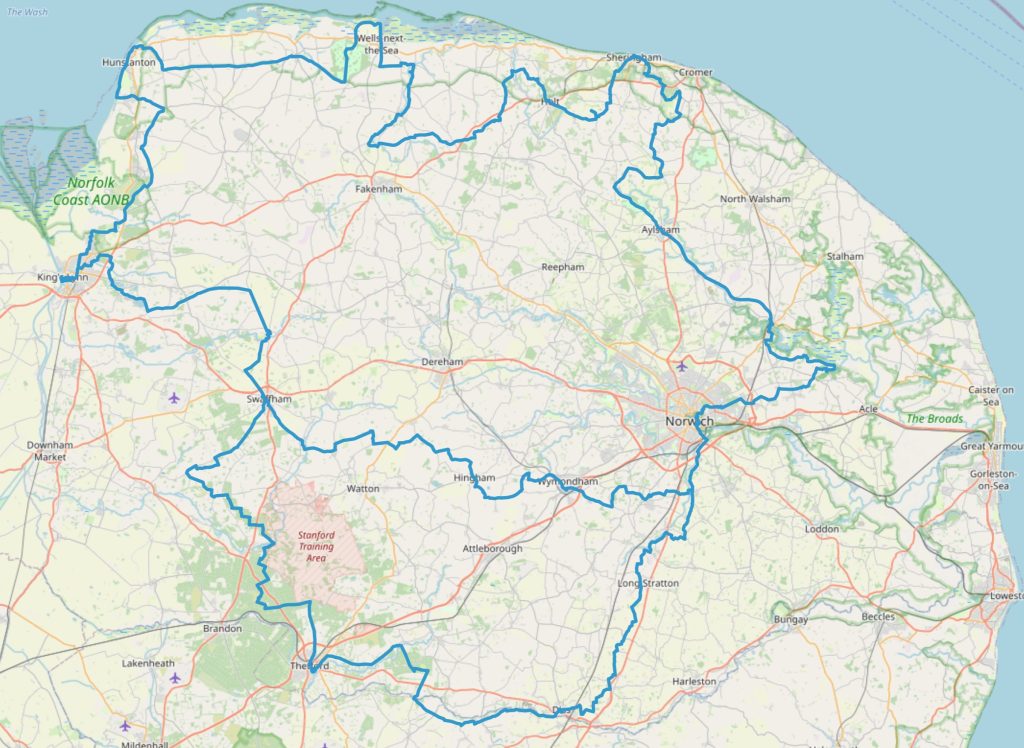 Planning
If I'm honest, I didn't put a lot of planning into it…I'd trained hard over the winter on Zwift and my Turbo Trainer so I knew I was fit enough to do the route. I got the route off 'Ride with GPS' which is a good route building program/app but you can also gain access to other peoples routes (I've found this useful when I cycle abroad or in another county around the UK). 
I managed to persuade a friend to join me, picked a hotel at the half way point for me, which was near to Kings Lynn. I stayed at the Ffolkes hotel near Kings Lynn which were happy to accommodate my bike, had a good menu for evening food, and an all you can eat breakfast which I thought would be much need.
Nutrition
As ever I chose the excellent Veloforte (https://store.pedalrevolution.co.uk/facetresults.aspx?Term=veloforte)  products for my nutrition, using Solo and Attivo, electrolyte and energy powders in my bidons. Because they are sachets I was easily able to take some on the ride with me for when my bottles needed refilling mid ride. For nutrition I took the Veloforte bars taking a mixture of my favourites; Avanti, Di Bosco, Ciocco and Mocha. I had enough bars for 4 per day, I then planned to stop for a lunch each day and possibly, another garage or cafe stop if need for food.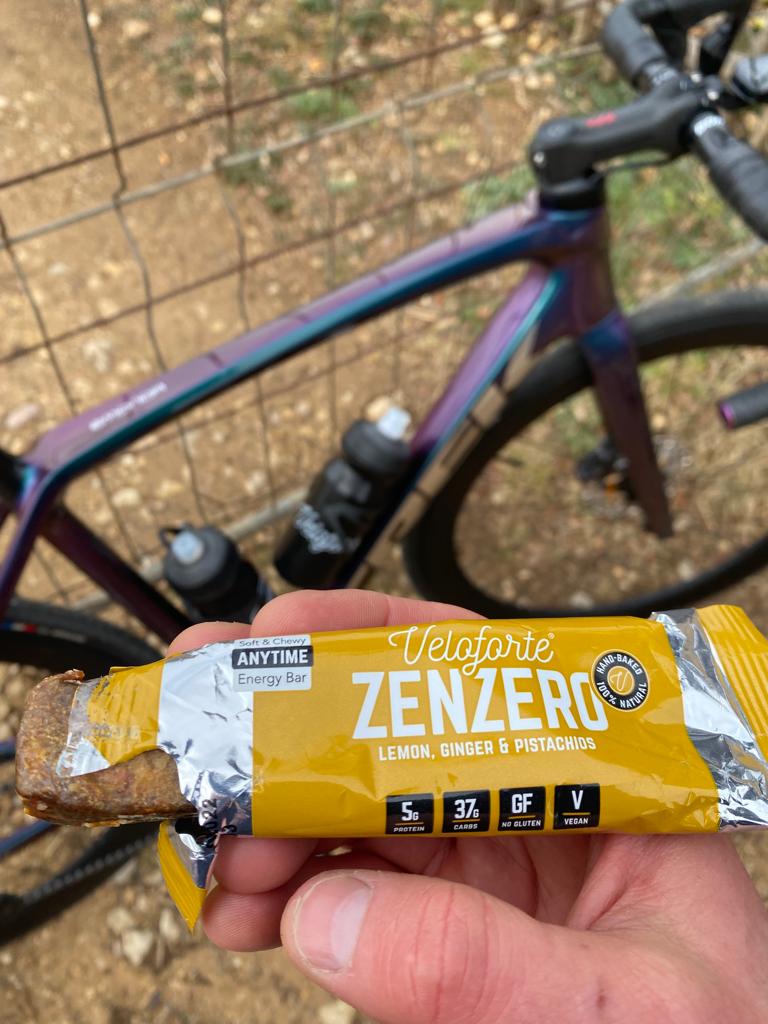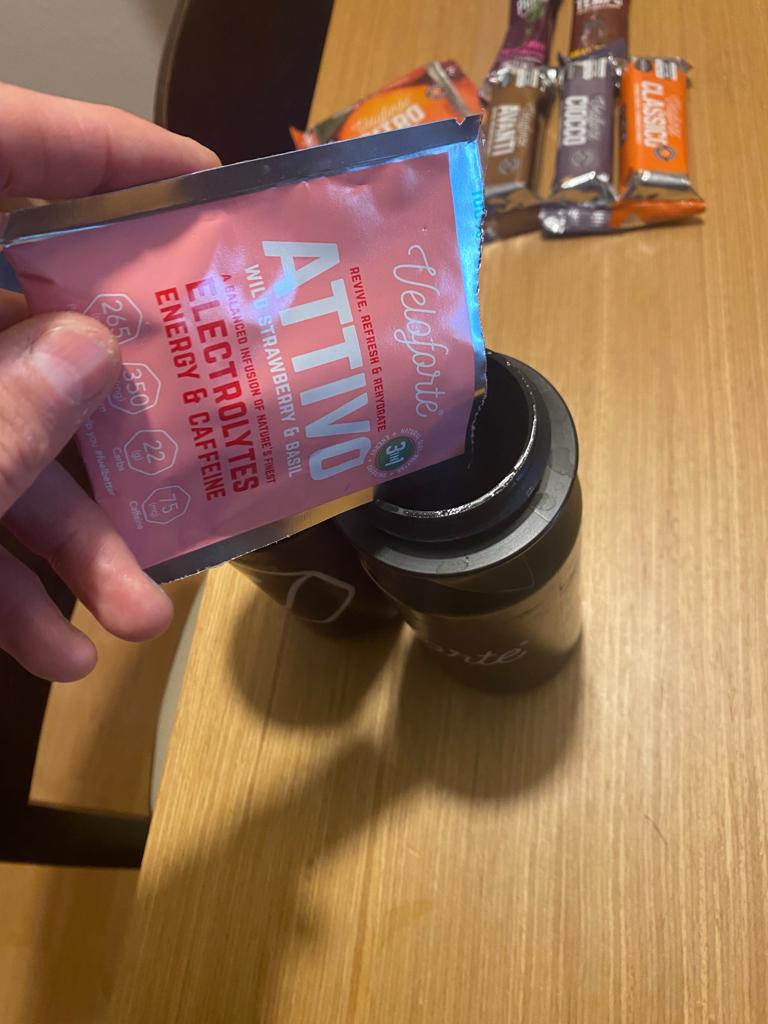 Packing 
The biggest amount of planning and worrying I did was over bike storage/bags and the combination I would use. I wanted to pack light as I was planning on doing the ride in 2 days, so I needed some change of clothes for the evening and the next days riding and toiletries. Plus then some spare for the bike; inner tube, multi tool, chain link, pump, CO2 pump, patches, plus my nutrition.  I ended up choosing the Ortlieb Seat-Pack QR 13L to fit all of my overnight and next day kit, then had a handlebar bag for my tools and nutrition. I ended up taking in my Seat pack, sliders, spare socks, rain jacket, jumper, shorts, baselayer, and toiletries.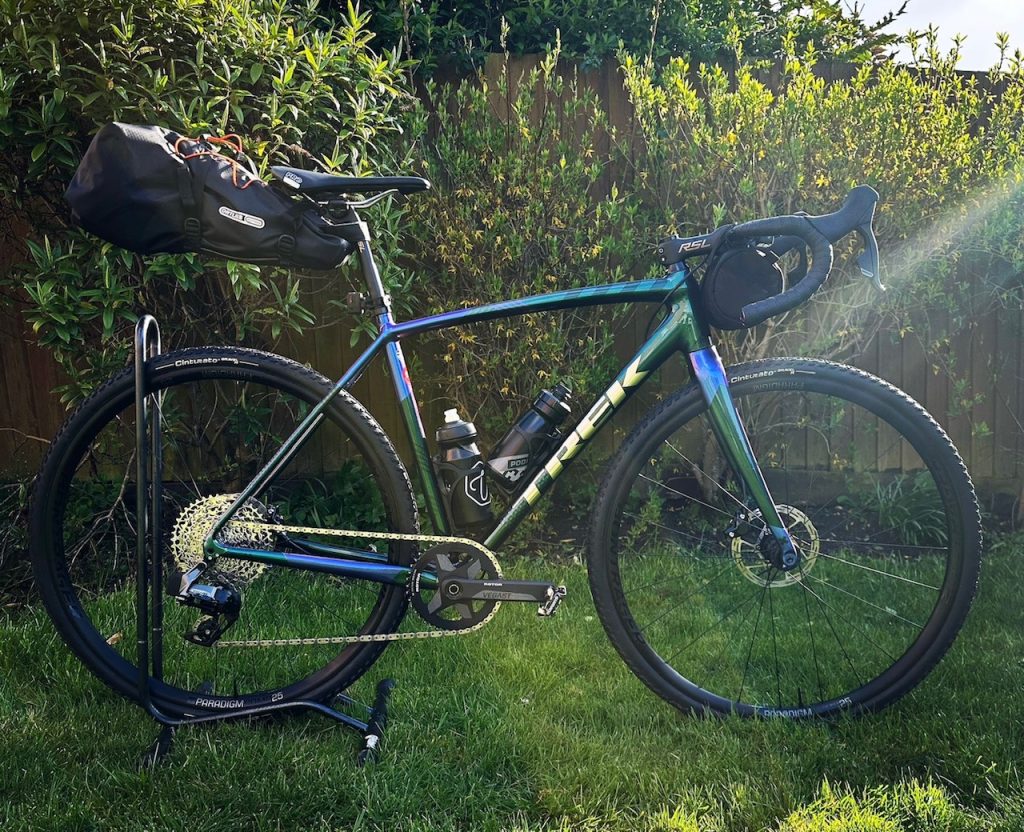 Day 1 173km, 1128 meters of elevation and 7 hours 18 minutes of riding time!
The route went pretty much past my front door, so my friend and I set off from my house at just after 8.30am on the first day (I live just south of Norwich City centre) the ride uses a bit of the Boudicca Way route it seemed so we picked up the route from Trowse and headed south towards Diss. The first part of the ride was mainly 'grass down the middle' back roads, then there was a nice off road section down a bridal way. At Wacton Common, it was a boggy ride across a bumpy field, but once the other end it was on more Bridleways and gravelling back roads to Diss. On one section of Bridleways you encounter a ford but luckily we spotted a bridge just around the trees so managed to keep our feet dry here! Once through Diss we headed towards Thetford into a headwind, this section was mainly on back roads again. We stopped in Thetford for Lunch as the sun was out and it was now about midday.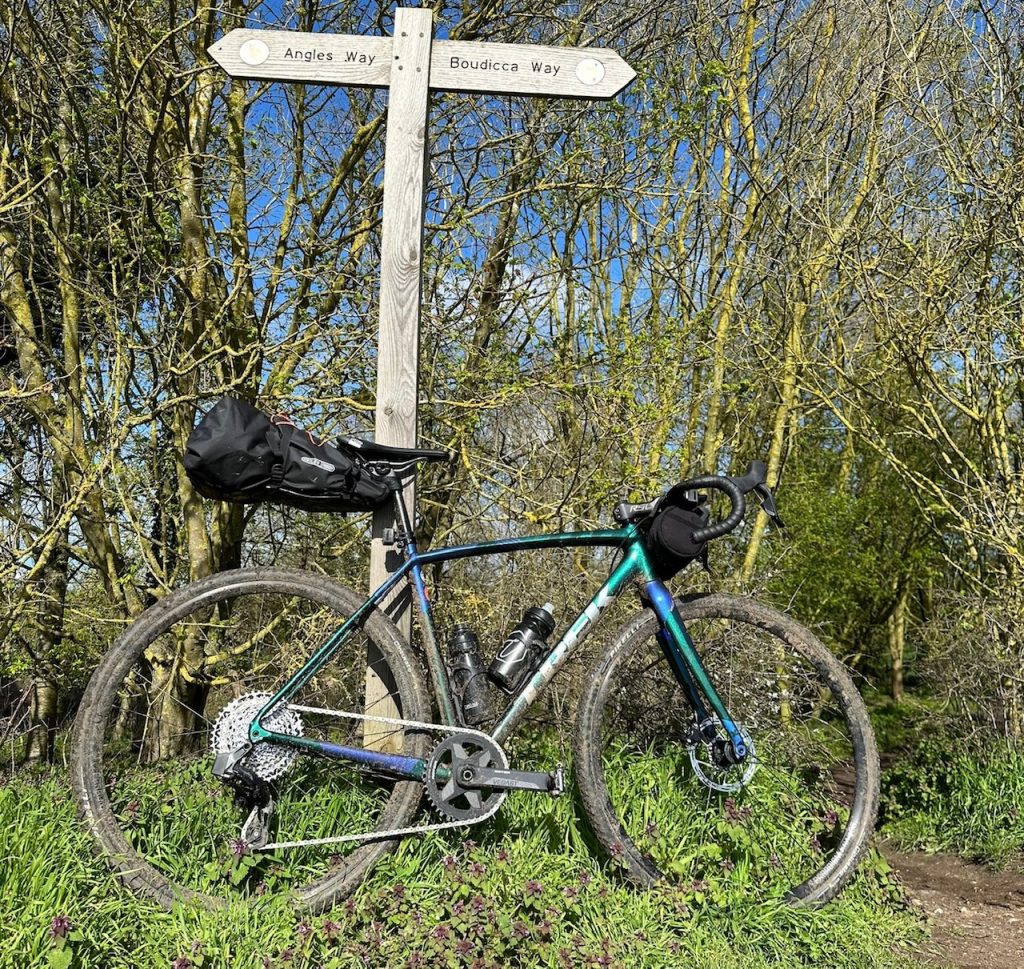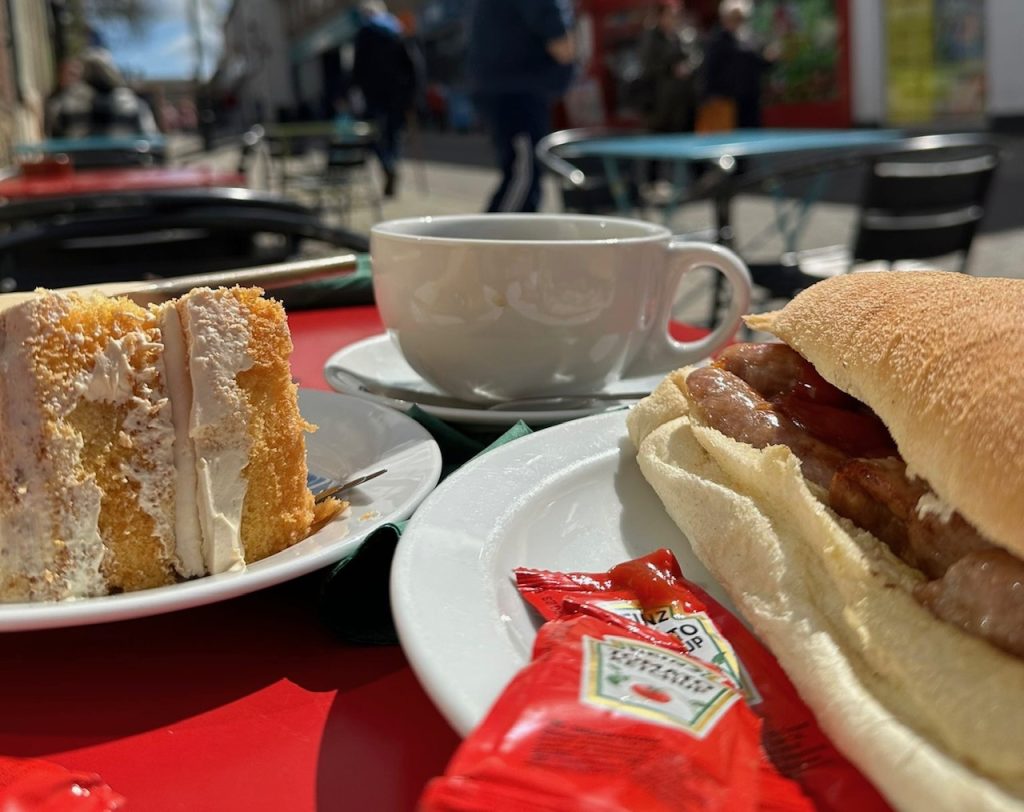 After leaving Thetford town centre and an excellent lunch in a local cafe, there was a large off road section through the woods and forests of Thetford, here it was a mixture of bridleways, heath land but also soft and at times compacted sand making this probably one of the largest sectors off road – definitely of day 1! After leaving Thetford forest you head in back roads towards Swaffham, again coming offroad around Castle Acre, taking in the ruins on route. Again it was into a headwind and as we still had a round 30 miles to do that day, we stopped at a cafe in Swaffham for a Coke and snack to eat. After feeling a little more refreshed post caffeine and sugar intake, we left Swaffham heading towards Kings Lynn, you go via some pretty Bridleways to Castle Are then onto Kings Lynn, we skirted around the town, then did a loop of the pretty village of Castle Rising before heading towards our hotel for the night which was just off the route in Hillington.
We were finally at our hotel for the evening and night! It came just in time … but day one was done!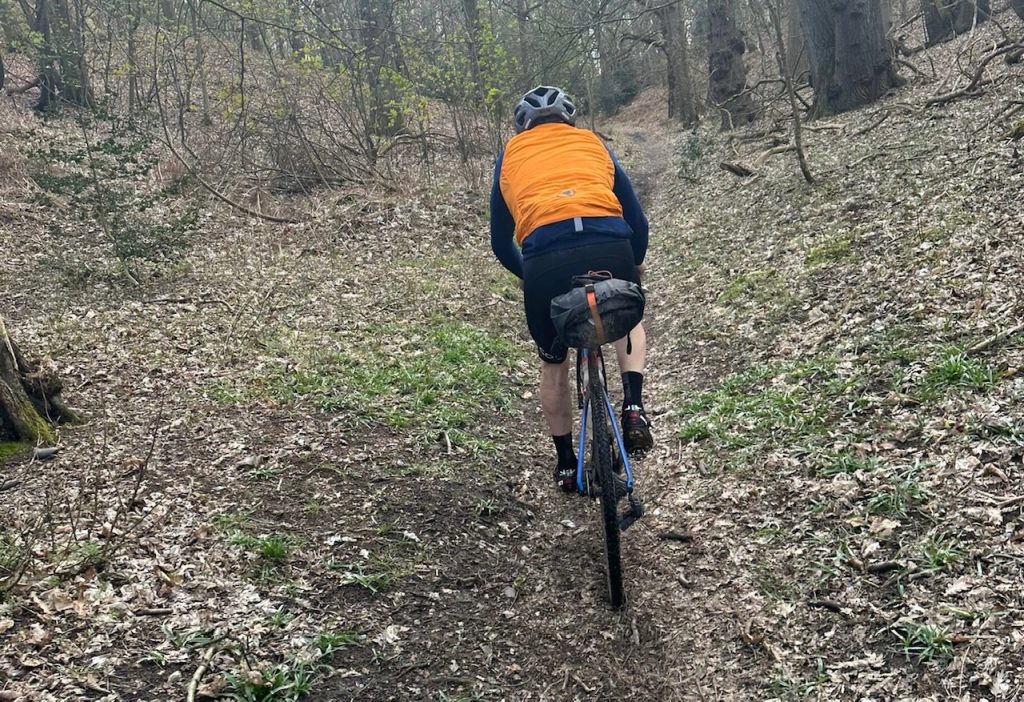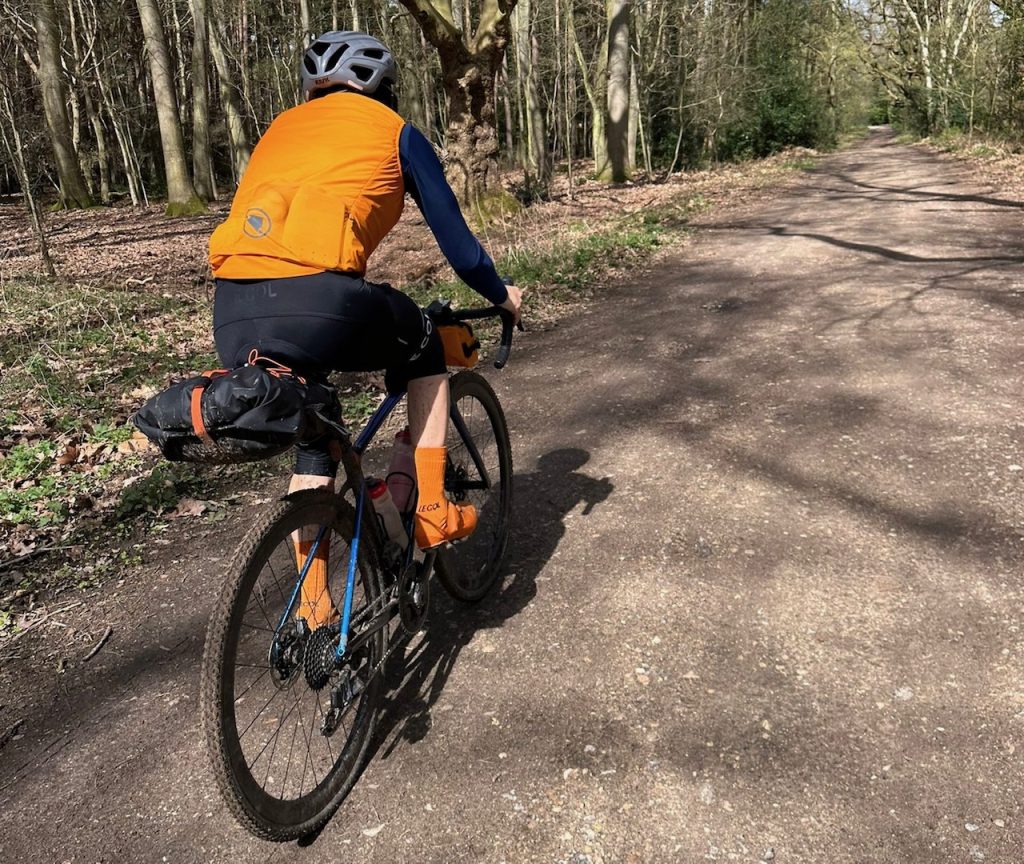 Day 2 200km, 4,888ft Elevation 8 hours 4mins.
The second day started with an alarm call around 7am,  we then tucked into an 'all you can eat' breakfast at the hotel which was much needed! The first few pedal strokes the legs were sore but they soon loosened up as we left the coast and headed for Sandringham, the lanes around the royal estate were looking glorious as the morning sun shone through the leaves and lit up the fields. A quick stop for a tourist photo outside the gates and then we headed off to sunny hunny (Hunstanton) via the some pretty back lanes through the rolling North Norfolk lanes. The route takes you along the seafront at Heacham all the way to Hunstanton, which was a nice touch. After leaving Hunstanton you head inland a little zig zag along the Norfolk coastline on back lanes with 'grass down the middle'. The next off road sector is as you get to Holkham Hall and go through the estate, you then cross the main coastal road and head off to the beach before going through the woods behind the beach which takes you to Wells.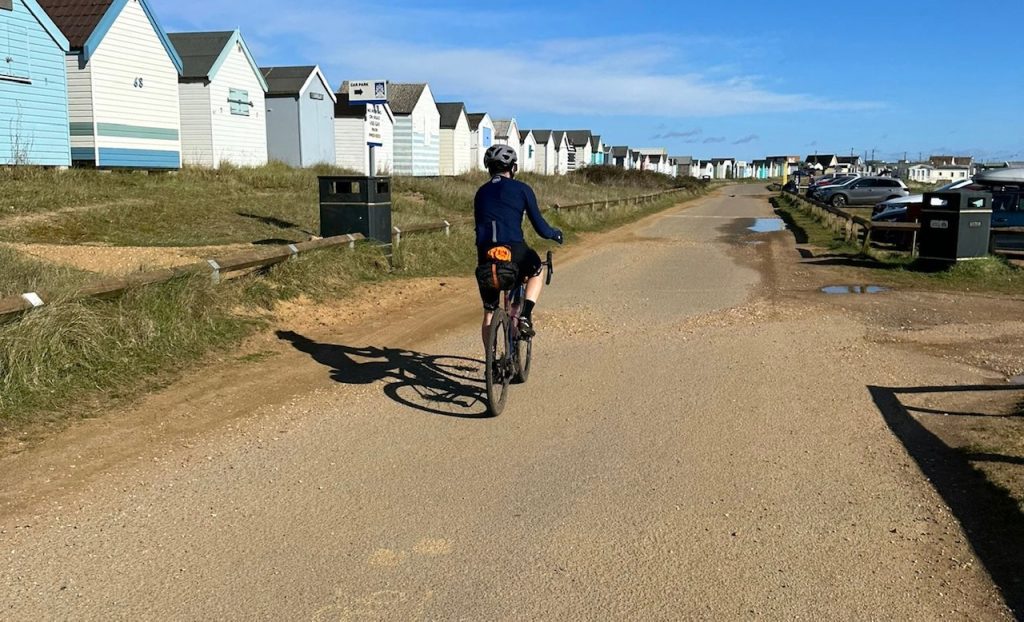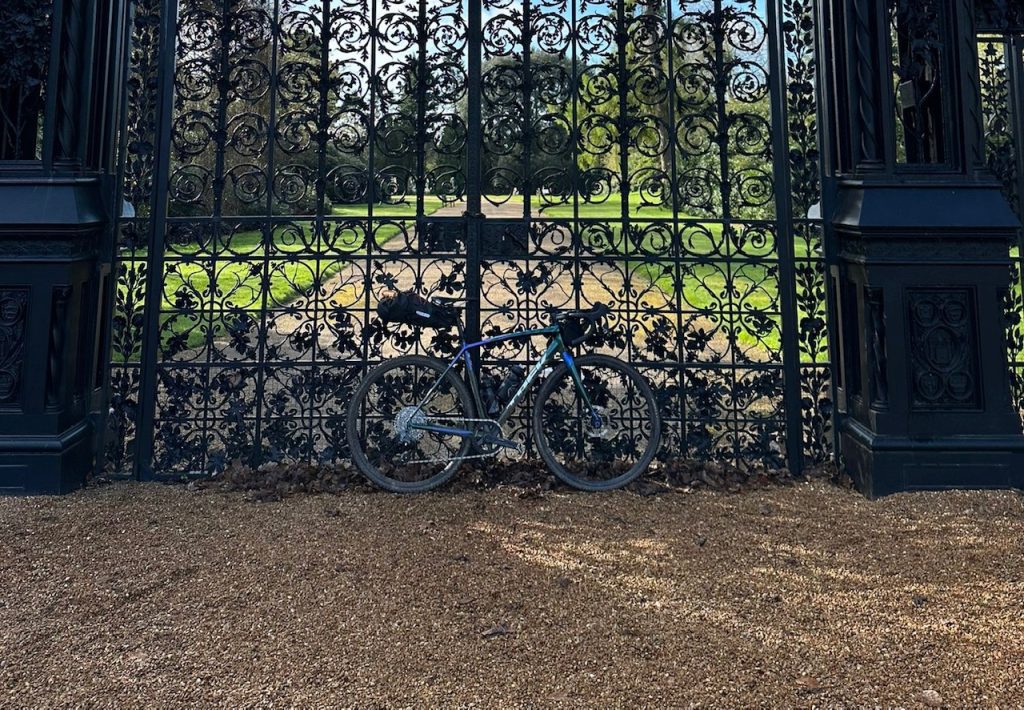 Once navigated through the pretty seaside town of Wells Next the Sea, you go on some rough farm tracks and bridleways towards Binham, there you hit asphalt again and head towards Holt but only once you've head away from Holt and South a bit before heading back East and North. Here you hit a fairly technical off road sector before jumping into Holt town. Here we stopped for a big lunch at a local cafe, which was much needed as we'd now been riding into a headwind for about an hour and we knew most of the ride home would be into a headwind also. But the sun was shining and we were riding our bikes so not too much to complain about…Post lunch we left Holt and headed further inland mainly on back roads before turning and heading north to the seaside town of Sheringham, once through the bustling town of Sheringham you go past Beeston bump (hill) before leaving the town via a very steep off road climb through Sheringham Common woods, but the hard climb to the top is rewarded with a wonderful view out to see and back to Beeston Bump.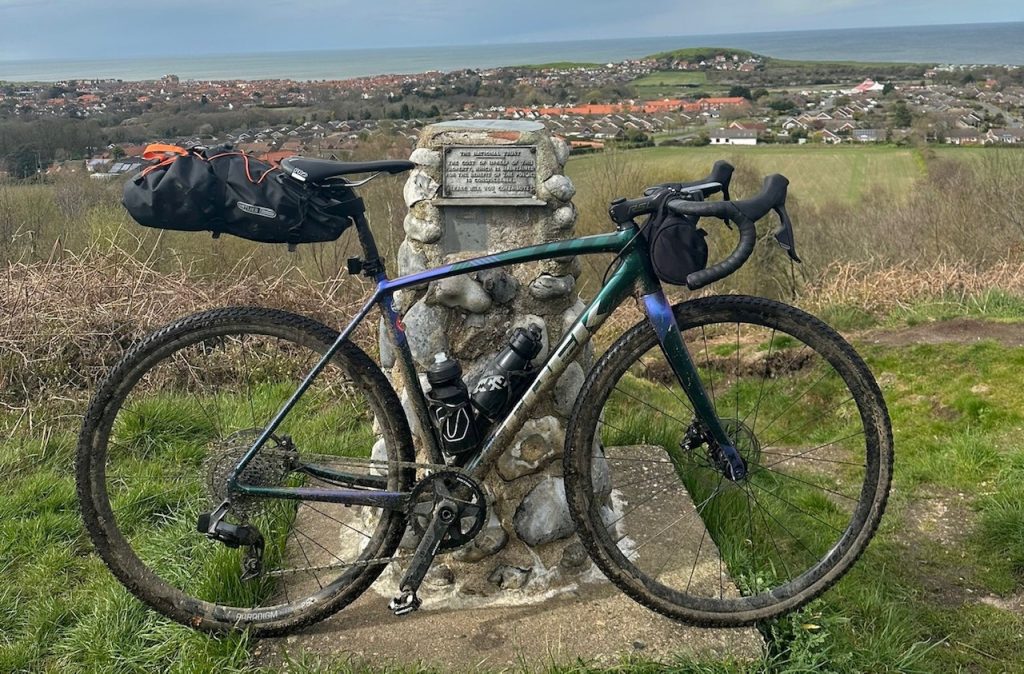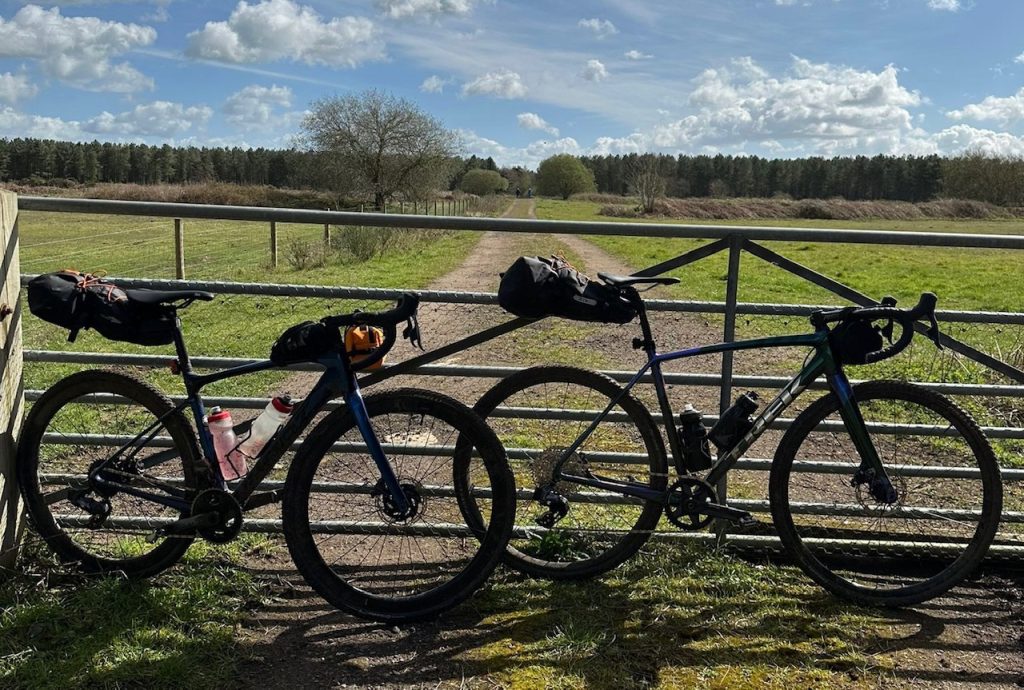 After then returning back on route you'd just ridden then out of the woods, you jump over to Fellbrigg hall which is another stunning Stately home in Norfolk, from there you go on some really technical offroad sectors before a little bit of road action before hitting Blickling Estate – which is Stately Home number 4 on the route! After leaving the beautiful grounds of the estate we stopped for one final refreshment stop in Aylsham, a coke and a cake before hitting probably the best off road sector and true gravel paths of the Bure Valley, which follows next to a tourist train line from Aylsham down to Hoveton/Wroxham. This was really enjoyable part of the route, not many walkers, flat and decent gravel! Leaving Wroxham you head on back roads out to the West of Norwich around the Broads, where you do a little off road for half  a mile or so before heading back on back roads to Norwich. However just as we were nearly home there was an almighty hail storm which meant we had to stop. It was the first time I got cold and wish I had gloves, it then rained for a bit and my hands never recovered until I was home again about 30 minutes later!  However with the threat of rain and it raining I found the the external bungees on my Ortlieb seat pack were excellent for temporarily storing my rain jacket in between the rain showers and colder periods throughout the day. 
Finally got home around 6.30pm, cold, tired and hungry! But it had been a great adventure!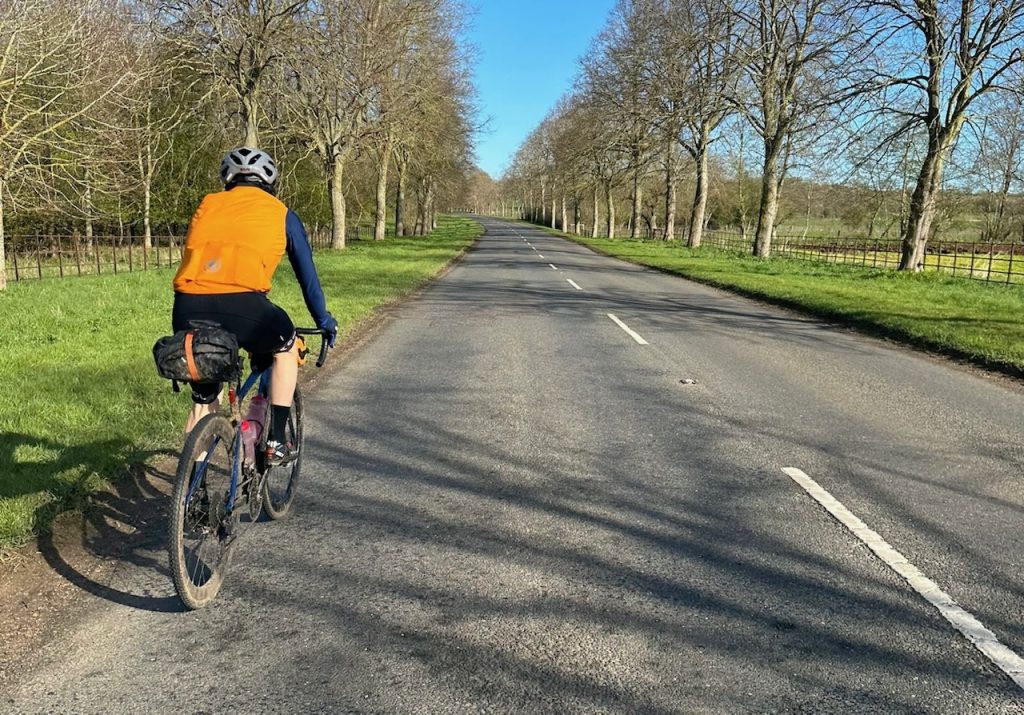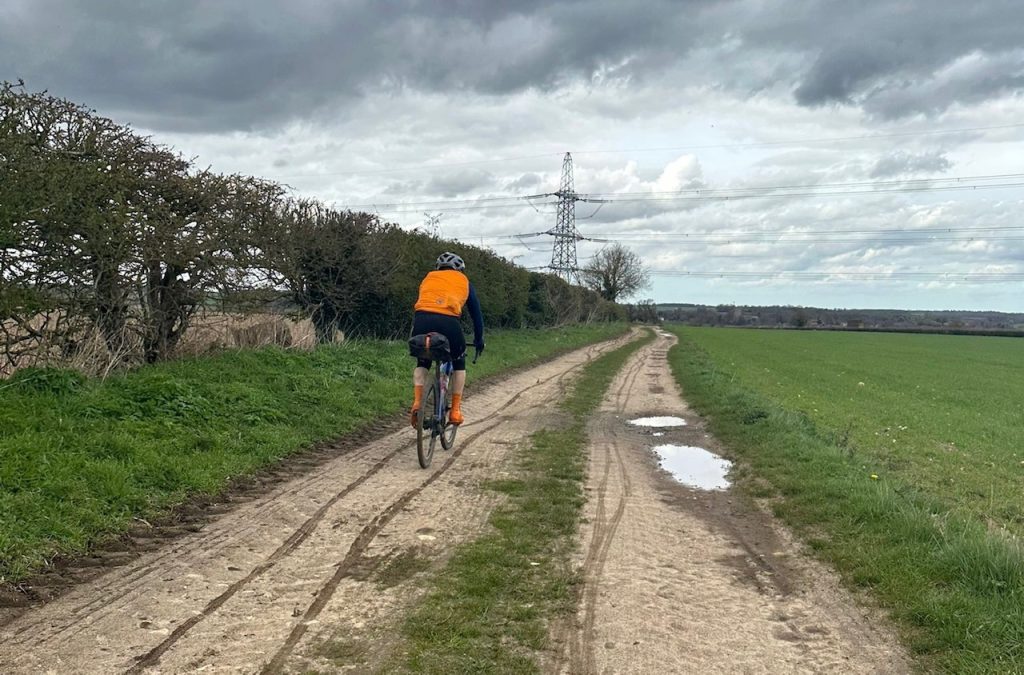 The Bike
My bike for the adventure was my Trek Crockett. Its primarily a Cyclocross bike but I've set it up for gravel adventures. I have fitted the excellent Pirelli Cinteratu Gravel M 35mm tyres set up tubeless which haven't missed a beat yet, no puncture and they seem fast rolling on asphalt and have good grip in the wet mud, I highly recommend these.
Wheels are the Bontrager Paradigms which I think for the money are a cracking set of Alloy wheels, wide rims to suit the wider tyres, and an excellent hub for speed pick up.
I've got mainly Bontrager RSL finishing kit, and a Pro Griffon saddle which suits my setup and fit on this bike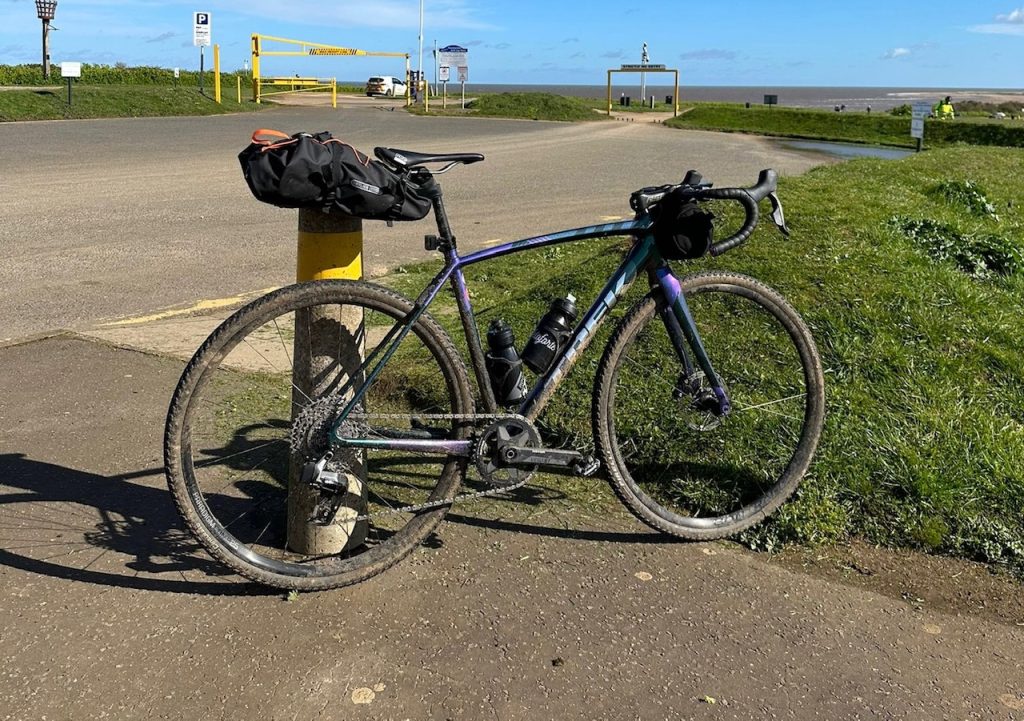 Summary
Bike and tyres were great and ideal for the terrain.
Bag selection was also good, I had room to pack more stuff, which leads on to what else you I have packed…small bottle of chain lube – my chain was quite dry after day 1…gloves for riding…
Things I took I didn't need to…nothing i can think of
You have got to give this route a go it's amazing to explore all of Norfolk plus some great trails and paths along the way!