The very first Southwold Cycling Sportive (hosted by Pedal Revolution Events in association with Adnams) will take place on Sunday 8th April. This will be a sportive with a difference – as a tribute to the classic Paris-Roubaix race (which will be held on the same day), we've added some challenging optional secteurs for those brave enough to attempt them.
Secteur 1
Routes: All routes
Road Type: Cycle Path
Optional/Compulsory: Compulsory
Difficulty: Easy
Pay Attention to: Narrow bridge and beware of pedestrians
Distance Saved: 0.0 miles
Two miles into the ride, marshals will direct all cyclists to turn right onto a cycle path. The ONLY non-optional secteur on the ride as the other way across the river is a 12 mile detour along the A12. The cycle path and the bridge are narrow but perfectly rideable.
---
Secteur 2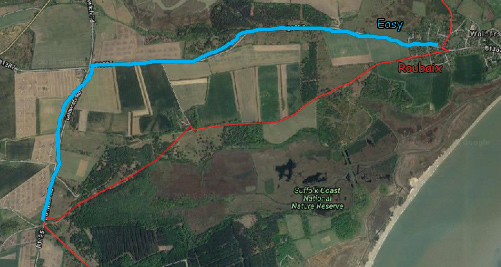 Routes: All routes
Road Type: Mostly tarmac, some rough track.
Optional/Compulsory: Optional
Difficulty: Medium
Pay Attention to: There may be some large puddles on the track sections
Distance Saved: 0.3 miles
Three miles into the ride, those wanting an easier on-road route, turn right out of Palmers Lane onto the Street. For the rough route, turn left then right into Lodge road.
The rough route is mostly tarmac until 4.9 miles until you join this (see images below).
The shortcut is just 0.3 miles shorter before you re-join with the easy route.
---
Secteur 3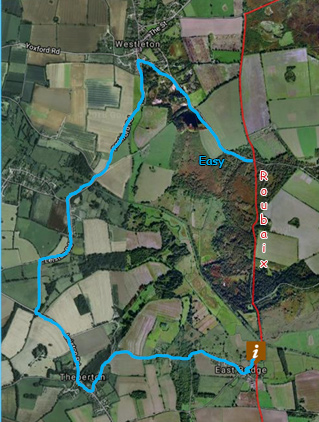 Routes: 50 miles, Roubaix
Road Type: Offroad, boggy patches.
Optional/Compulsory: Optional
Difficulty: Tough.
Pay Attention to: For the really boggy patches, take to the verge.
Distance Saved: 4.3 miles
At 11.3 miles, the course splits again. If you wish to follow the easier (but longer) option – turn right. Those made of sterner stuff can continue straight ahead.
This is a really tough section with muddy puddles and a bit boggy in places, but still passable. There's room on the verges to go around the really boggy patches.
The shortcut will shave 4.3 miles off the route so you should reach the Eels Foot ahead of those opting for a smoother road surface.
---
Secteur 4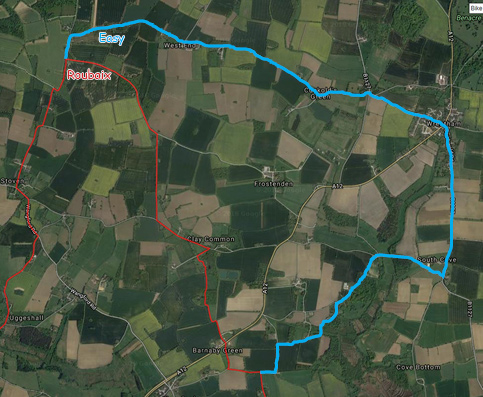 Routes: Roubaix
Road Type: Trail.
Optional/Compulsory: Optional
Difficulty: Medium/Tough
Pay Attention to: This is a horse trail, please GIVE WAY TO HORSES
Distance Saved: 3.2 miles
61.3 miles into the ride, turn right for a muddy trail challenge and to shave a further 3.2 miles off the route, otherwise keep going straight to stick to the tarmac.
---
Josh from our Norwich store rode the route in early February, with ice covering most of the puddles. The bike managed the whole route just fine along all the rougher off-road secteurs. He wasn't too muddy afterwards either.
Should you be brave enough to follow all optional off-road secteurs, your total distance travelled will be around 70 miles – although your medal will say 75 miles because that's what it'll feel like. For those hardy enough to complete all optional sections will be eligible for a special reward, details of which and how to claim will be announced at a later date (all we will say for now is that if it's not on Strava, it didn't happen!)